Pick a perfect pear
September 14, 2014 by Darcie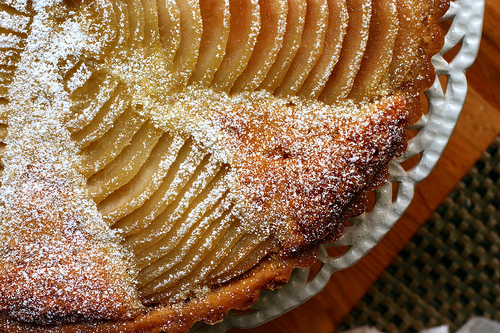 Crisp mornings and shortening days herald the arrival of fall and with it, fall fruits such as pears. Jacques Pépin notes in Sweet Simplicity that pears are regarded in France as "the king of fruits," and indeed pears shine in both sweet and savory applications. Indexed blog The Kitchn's provides a refresher on how to choose, ripen, and store pears. Unlike many other fruits, pears ripen best off the tree, and you can time the ripening to fit your schedule. According to The Kitchn, "If you are looking for a ripe pear to eat immediately, press a finger gently into the top of the pear just where the stem joins the fruit. If it just starts to give there, the fruit is ripe." If you want to use the pears in a few days, make sure the tops are still hard. You can hasten the ripening process by putting pears into a paper bag with apples or bananas.
Asian pears are completely different in taste, texture, and shape than European pears. They possess different criteria for judging ripeness, and one of the key indicators is color: "If you are looking for a ripe pear to eat immediately, find a browner or more yellow-colored pear with no green undertones. There should be no soft spots on the pears, and it should be very firm. If you want to eat the pears in a few days, green is fine."
For more information on the differences between varieties of pears, Epicurious offers a visual guide to the fruit, describing attributes of pears from Anjou (short and squat, best for eating raw) to Taylor's Gold (from New Zealand and perfect for jams, jellies, and sauces). While the Epicurious list contains many varieties, notably missing are Seckel pears, tiny pears that make for great individual whole-pear dessert presentations.
Get started with this fall's pear crop with these great recipes from the EYB Library: