Coastal features
July 16, 2013 by Susie
Summer's a slow time in cookbook publishing, but I notice one category of books has kept up a steady, diligent trickle: seafood books. This isn't totally surprising, since summer's the time for beachgoers and weekend fishermen and fried shellfish. We had a good crop of these books a couple of years ago, but last year was an off year. Now they're back, brilliant and briny.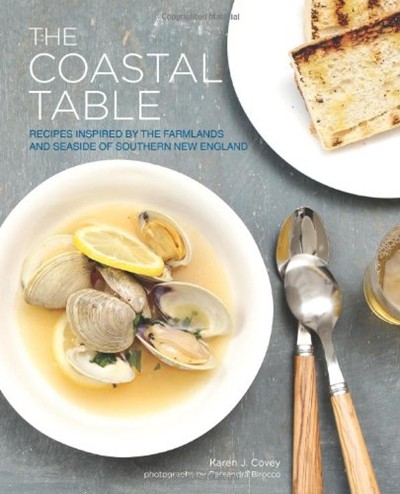 There are a couple of different approaches to the seaside cookbook. One is to emphasize the leisurely, vacation-going aspects of life by the ocean, as Karen Covey does in The Coastal Table. The book is full of cocktails and brunchy treats for the seaside dweller's endless stream of summer guests. Sure, there's some fish and shellfish recipes, but that's not the main point.
And then there is the sportsman's approach – what can you catch, or trap, or forage for, and how quickly can you get it from its ocean habitat to your plate? That's the single-minded focus of Ben Sargent's The Catch, an enthusiastic ode to the fruits of the sea. The Catch bursts with global flavor, from tamarind-glazed swordfish to scallop ceviche. It's as hokey in design as one of those seafood restaurants with the nets and buoys and life preservers as décor – but like them, it might have some unexpected treasure.
My problem is that every summer I'm excited about another one of these books – but my interest never lasts out the year. What are your favorite perennial seafood books and recipes? which has proven to be a keeper – and a catch?!