Teen and "student" cookbooks: really necessary?
June 18, 2012 by Susie
Summer's just about upon us, and even the latest high school and college graduations are finishing up. Each year, I wonder: how many of those new graduates are getting cookbooks as presents? And how many of those cookbooks have names like "Clueless in the Kitchen" or "Teen Cuisine" or "Teens Cook" or "Awesome Recipes for Teen Chefs" or "Where's Mom Now that I Need Her"?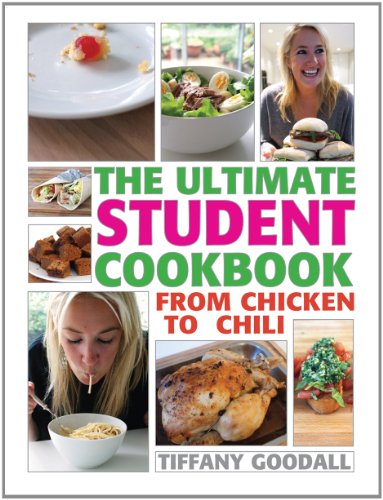 The most recent version I've seen is The Ultimate Student Cookbook, from Tiffany Goodall. It's got the two elements I think these cookbooks have to have: 1) an emphasis on "serves 1" recipes; and 2) lots and lots of process photographs. It uses "just 20" pieces of kitchen equipment. (Though how many students even have a kitchen for those 20 pieces? How about "How to Cook Dinner with 1 Rice Cooker and a Swiss Army Knife"?) Still, it makes a nice package, and I predict it will sell if only because of its canny title.
But (except for the issue of scaling down a recipe to serve 1, which isn't terribly difficult) do you actually need a "student"- or "teen"-focused cookbook at all? Won't any basic cookbook do? Young people are quick learners and – having probably been slicing and dicing organic chemistry textbooks not that long ago – entirely capable of parsing a well-written recipe, without a lot of "don't worry, this is so easy!" and "Even you can cook this!" commentary on the side. Wouldn't it be a better investment to just get a big Bittman book like How to Cook Everything: The Basics or Jane Hornby's What to Cook and How to Cook It? Or – as so many cooks in search of photo and video instruction do – download an app?
If you're an EYBer, chances are it's been a while since you had to worry about buying a how-to-cook cookbook for yourself. But what are you buying for your younger friends, or your friends' kids? Do you go traditional, with a Deborah Madison book or Julia Child or Joy or Bittman? Or do you go for a just-for-you, easy-does-it cookbook that's marketed straight to the demographic?