Tracey Zabar
October 27, 2011 by Susie
Susie interviews Tracey Zabar about cookbooks, kitchen favorites, and what makes a cookie tick.  
I confess it: the cookie is my favorite dessert, any time of year, any day of the week, and (if we're being honest here) practically any time of day. I love cookies because they have a glorious variety of textures. I love them because they come already in a reasonable portion size–you don't have to go after them with a knife and a pie server, say. They're easy to share, and cookie recipes are usually simple enough to make on a weeknight. Even if they're more complicated, it's worth it because you get lots and lots of cookies. Although I've said I love cookies all year, and that is true, I really turn into Cookie Monster right after Daylight Savings ends. After the time change, there's something about those dark, early evenings, the fallen leaves collecting a tracery of frost. There's a stack of kindling on the hearth, fuel for the wood stove. And there's a stack of cookies on the table, fuel for the baker. I have loved many cookies over the years–little sprinkled star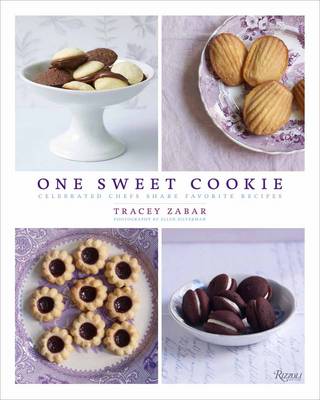 cookies, chewy chocolate cherry cookies, crunchy nut biscotties–but I am always on the lookout for more. And every year around holiday time, there always seems to be at least one adorable new cookie book that gives new life to my cookie repertoire. Everyone has a favorite cookie, even the most refined chefs and restaurateurs. Our newsletter guest, cookie maven and scion of the famous deli family Tracey Zabar, has interviewed 50 of them for her new book, One Sweet Cookie. We recently caught up with her for some insight into cookbooks, kitchen favorites, and what makes a cookie tick.
What's your favorite new cookbook?
The Italian Table by Ron Suhanosky and Julia M. Usher's Ultimate Cookies
What's your favorite part of writing a cookbook? and your least favorite part?
I loved writing One Sweet Cookie because I was able to bake every day for a year! It was so much fun interviewing the chefs, and often baking with them. I posed one question: "What is your favorite cookie?" and let the chips fall where they may (sorry, bad cookie pun). One difficult part was waiting to see if I was going to receive many similar recipes, but I didn't. It turned out to be a delightful, somewhat balanced collection. The other problem was figuring out how to get thousands of cookies, brownies, and doughnuts out of my house before I ate them all. Luckily, there were many friends and neighbors who happily took them off my hands.
What was the first cookbook you ever owned?
I never saw a cookbook until my 1980 bridal shower, when I received a copy of Maida Heatter's Book of Great Desserts. It opened the whole world for me. Growing up, our family only had desserts on holidays and birthdays, and they were from one bakery (Rocco's) in the North End of Boston. I baked my way through that cookbook, and quickly purchased two more of her books. My favorite Maida dessert was her brownies, which I baked all the time to keep my husband awake during exams-we were in college during the first two years of our marriage. Imagine my delight when Maida Heatter presented me with the very same brownie recipe for One Sweet Cookie! It was updated with a layer of peppermint patties, but I often make them the old way for the husband and our four children.
What cookbook do you give to a favorite friend or family member who's just learning to cook?
When one of our little cousins announces his or her engagement, I contact many of the relatives and friends on both sides. I collect favorite family recipes, and put them into a little handmade cookbook, along with baby pictures of the couple. I present it, along with a stack of ten or twelve new and classic cookbooks, as my shower present. I would give a copy of The Fannie Farmer Cookbook. And also, Sarabeth's Bakery (which I was lucky enough to work on), and, of course, One Sweet Cookie.
Your desert island cookbook i.e. the one you never want to give up?
I think it would be a three-way-tie between my 1947 copy of the Cordon Bleu Cookbook by Dione Lucas, Paula Peck's The Art of Fine Baking, from 1961, and Nick Malgieri's The Modern Baker, 2008.
What do you consider to be your all-time best recipe, or one that is always identified as yours?
Although people often identify me with Zabar's yummy black and white cookies, my meringues are my baking masterpieces. They are called Pink Swirl and Dusted Meringues in One Sweet Cookie. I could eat them every day!
Seen anything interesting?
Let us know
& we'll share it!