Joe Yonan
June 15, 2011 by Susie
Joe Yonan is the Food Editor for The Washington Post and recent cookbook author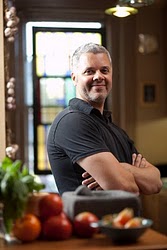 I knew writing a cookbook would be a lot of work. After all, I had done it before — in 2004, with Boston chef Andy Husbands. What I didn't quite realize, though, was how personal, and therefore how gratifying, my latest project would end up being.

I suppose I shouldn't have been surprised, given the subject matter. Indeed, Serve Yourself: Nightly Adventures in Cooking for One began because I wanted to inspire other single folks to make interesting, satisfying meals for themselves. I envisioned it as a practical guide, with eclectic, tempting recipes.

But then I started cooking, testing, and writing, and something slightly different began to take shape. I started telling stories in each headnote, and I mean beyond serving instructions. I included some essays, some of them tweaked from previously published pieces and others fresh. And the tone started to shift. I found myself telling readers not only what they might cook, but how I cook — and therefore how I live. I even gave an unflinchingly honest look at my own relationship history. It was a much different process and style than in "The Fearless Chef" with Andy, and as a result, I now understand what other authors have said: Writing a book is indeed like giving birth. And I guess I'm a single father this time around. This is nobody's baby but my own.

When you expose yourself so publicly, the period between turning in a manuscript and reading the first reactions to the advance copies can seem like an eternity. For the longest time, I had feedback from recipe testers and friends about the food, but the only people who read the essays were my editors at Ten Speed. So I started to wonder: Would anyone else understand? Would they get it? Did I disclose too much?

I've been thrilled that the book has gotten good notice in magazines, newspapers and on some of my favorite blogs, but one reaction in particular stood out. Shortly after publication, I was mentioned on Twitter by a complete stranger. "Thank you, @joeyonan," she said, "for writing a book about singles that isn't pitying, pathetic or pandering."

Since it came from someone for whom the subject matter is obviously just as personal as it is for me, I had an immediate response: "Best. Review. Ever." And I meant it.