Christopher Kimball's New Line with Kuhn Rikon, Milk Street The New Home Cooking and Sur la Table Gift Card – Giveaway
March 27, 2018 by Jenny
Christopher Kimball has many irons in the fire from the cooking school, his television program, Milk Street Magazine, to penning cookbooks with several coming out this year including Milk Street: Tuesday Nights: More than 200 Simple Weeknight Suppers that Deliver Bold Flavor, Fast, the man is busy. Recently, I happened upon his Kuhn Rikon cookware line at Sur la Table and had to find out more. Kimball has tested cookware his entire career so these kitchen tools and cookware should be outstanding.
The Kuhn Rikon Durotherm Casserole was the first piece that caught my eye and particiularly this sentence: "Revolutionary DUROTHERM double-wall construction saves up to 60% energy by requiring less heat and cooking time, and keeps food hot for up to two hours for stress-free cooking – no need to reheat." Eureka!
One of my pet peeves when entertaining is keeping a meal hot while waiting for others to get to the table. While I am preparing dinner all I hear is "how much longer?" but when I announce, "come and get it" suddenly the urgency is lost. My husband loves his food piping hot so I feel this pot will be a stress reliever for me in the kitchen.
More from the Sur la Table website on this piece: "This state-of-the-art casserole comes with interior quart markings for precise measurements, a removable heat-retaining base that prot
ects our surfaces, two ergonomic side handles for easy transport, and delicious recipes to take full advantage of the cookware. The double-wall insulated stainless steel pan and lid lock in vitamins, minerals and flavor by circulating moisture to the middle of the pan. Meals will cook consistently thanks to the even browning and rapid heat absorption of the Superthermic solid aluminum sandwich base."

I will be doing a follow up post and sharing my review of this piece in the near future. I love the beauty of this piece of cookware – feeling it can go from stove to table in style plus I am excited to see how the Hartin head of the household rates the heat retention.

Another item that I am interested in (I'm interested in them all – let's be honest) is Kimball's Traverse Power Whisk. "This whisk is quicker and more efficient than a traditional whisk, it reaches into the corners of saucepans and small containers with ease, and aerates or emulsifies liquids fast, saving time and energy and is easier to clean than a standard balloon whisk."

Kuhn Rikon is providing one of these whisks in our giveaway below and I will be doing a review of this utensil with the casserole above in a few weeks.
Sur la Table would like one of you to have a $50 gift card to shop online or in one of their stores (more about this giveaway below). Maybe you can apply the card to a piece of Kimball's cookware line? Kimball has an entire line of products for the kitchen through Kuhn Rikon available at Sur la Table.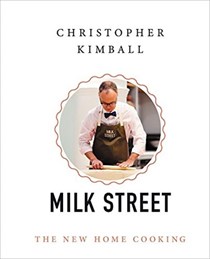 But before we get to the giveaway how about adding a copy of Christopher Kimball's Milk Street: The New Home Cooking cookbook to sweeten the deal.
This title is the first cookbook connected to Milk Street's public television show and delivers more than 125 new recipes arranged by type of dish: from grains and salads, to a new way to scramble eggs, to simple dinners and twenty-first-century desserts. What I love about this book are the global flavors from Spicy stir-fried cuman beef to Cuban-style pork shoulder with mojo sauce. These recipes will make any meal feel like a special occasion.
At Milk Street, there are no long lists of hard-to-find ingredients, strange cookware, or all-day methods. Skillet-charred Brussels sprouts, Japanese fried chicken, Rum-soaked chocolate cake, Thai-style coleslaw, and Mexican chicken soup all deliver big flavors and textures. These recipes teach a simpler, bolder, healthier way to cook that will change your cooking forever.
Special thanks to Little, Brown for sharing a recipe from Christopher Kimball's Milk Street: The New Home Cooking and for providing one copy of the book in our giveaway below. A special thanks as well to Sur la Table for providing a $50.00 gift card and to Kuhn Rikon for the Traverse Power Whisk.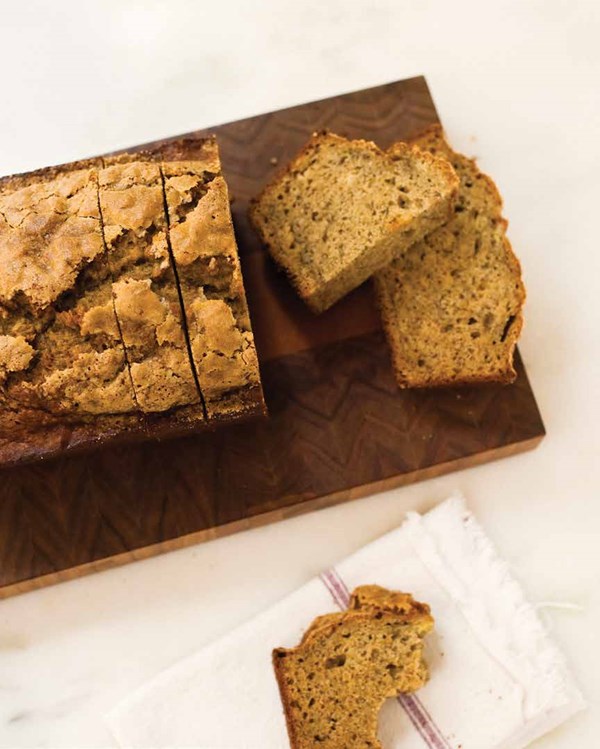 Brown Butter-Cardamom Banana Bread
Add this recipe to your Bookshelf (click the blue +Bookshelf button).
Start to finish: 1 hour 15 minutes (25 minutes active)
Makes one 9-inch loaf
284 grams (2 cups) all-purpose flour
1 teaspoon baking powder
1 teaspoon baking soda
1 teaspoon kosher salt
8 tablespoons (1 stick) salted butter,
plus more for the pan
1¼ teaspoons ground cardamom
2 cups mashed bananas
(about 4 very ripe bananas)
149 grams (¾ cup packed)
dark brown sugar
2 large eggs
2 teaspoons vanilla extract
1 tablespoon white sugar

Banana bread is one of the most common baked goods made at home. Unfortunately, most taste just that-common. We wanted a revved-up recipe that would produce flavorful results without additional effort. So we paired one of banana's most complementary spices-cardamom-with nutty browned butter. Toasting the cardamom briefly in the hot butter intensified the flavor. For just the right texture, we found we needed two leaveners. Baking powder gave the bread lift; baking soda resulted in a well-browned top and a dense crumb. Measuring the bananas in a 1-cup dry measuring cup was important; the difference in moisture between four small and four large bananas could throw off the balance of the ingredients. While we preferred the deeper flavor of dark brown sugar here, light brown works just as well. Sprinkling granulated sugar over the top of the loaf just before baking created a crisp, brown crust that we loved.
1. Heat the oven to 350ºF with a rack in the upper-middle position. Lightly coat a 9-by-5-inch loaf pan with butter. In a large bowl, whisk together the flour, baking powder, baking soda and salt.
2. In a medium saucepan over medium, melt the butter. Once melted, continue to cook, swirling the pan often, until the butter is fragrant and deep brown, 2 to 5 minutes. Remove pan from the heat and immediately whisk in the cardamom. Carefully add the bananas (the butter will sizzle and bubble up) and whisk until combined. Add the brown sugar, eggs and vanilla, then whisk until smooth. Add the banana mixture to the flour mixture and, using a silicone spatula, fold until just combined and no dry flour remains.
3. Transfer the batter to the prepared pan and sprinkle evenly with the white sugar. Bake until the loaf is well browned, the top is cracked and a toothpick inserted at the center comes out clean, 50 to 55 minutes, rotating the pan halfway through. Cool the bread in the pan on a wire rack for 10 minutes, then turn out the loaf and cool completely before serving. Cooled bread can be wrapped tightly and stored at room temperature for up to 4 days or refrigerated for a week.
Recipe used with permission of Little, Brown from Christopher Kimball's Milk Street: The New Home Cooking © 2017. Photo credit Sally Staub.
The publisher is offering one copy of Milk Street: The New Home Cooking, Sur la Table is providing a $50 gift card to use online or in their stores and Kuhn Rikon is providing one Traverse Power Whisk to one EYB Member in the US. Two of the entry options are to answer the following question in the comments section of this blog post.
Which recipe in the index would you try first?
Visit Christopher Kimball's line at Sur la Table and let us know which product you would like to try.
Please note that you must be logged into the Rafflecopter contest before posting or your entry won't be counted. For more information on this process, please see our step-by-step help post. Be sure to check your spam filters to receive our email notifications. Prizes can take up to 6 weeks to arrive from the publishers. If you are not already a Member, you can join at no cost. The contest ends at midnight on May 9th, 2018.