The many faces of Dorie (and cookbook covers)
August 8, 2021 by Jenny
Recently, Dorie Greenspan posted photos of her adorable grandbaby, Gemma on Instagram. This week, in the New York Times she shared a recipe for Strawberry baby cakes. (We will have this recipe indexed soon.) She made these lovely little bites for Gemma's first birthday.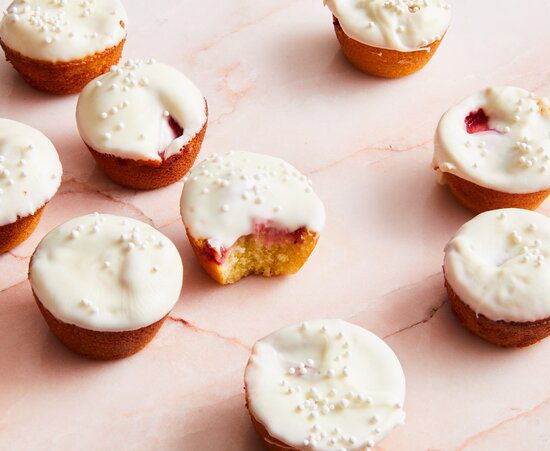 I am looking forward to trying these cakes. I so have a thing for miniature desserts. You can eat more and not feel so guilty, right? Happy birthday baby Gemma. You are the luckiest little girl in the world to have Dorie Greenspan in your life!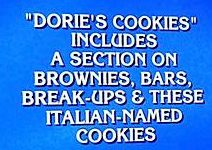 Thinking about Dorie being a mother, grandmother, wife, cookbook author, culinary icon, the subject of a Jeopardy question and more, made me think about the many "faces" she wears and then of course her photo on her cookbook spines.
When Dorie was a special guest in a virtual class with Brian Hart Hoffman at Williams-Sonoma in February, Brian mentioned the spines of Dorie's books that have a photo of the timeless Ms. Greenspan. (They also mentioned Eat Your Books and yours truly and I almost fell out of my chair – my 15 seconds of fame.)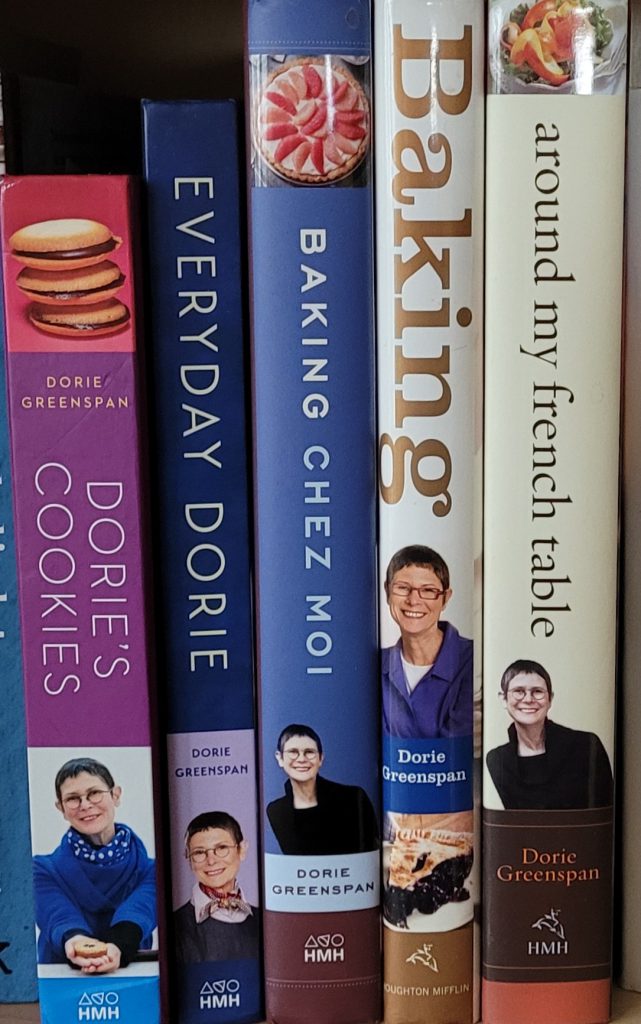 It has been said "not to judge a book by its cover" but we all do – especially cookbooks. I am not a huge fan of cookbooks with the author plastered on the front – a beautiful little thumbnail photo on the spine that is another story. I love artistic designs or covers that have a beautiful photo of one dish; when there are a collage of dishes – that to me is very distracting. Remember we are talking just about covers here. The content can be outstanding on a less than amazing cover.
A few of my favorites (click on book record to see cover) are Appetites: A Cookbook; Rose Levy Beranbaum's books; Anna del Conte's titles; the Bake from Scratch covers; almost every Diana Henry book; Dorie's books; New-School Sweets; Sweet (both UK and US covers); Ciudad de Mexico; Ripe Figs; the upcoming Fabulous Modern Cookies; the Tartine covers and there are probably hundreds more and I know I am forgetting some spectacular ones. Which cookbook covers are your top five? Have you bought a cookbook just based on the cover? Share your thoughts in the comments, please.
More posts on Dorie:
Sign up for Dorie's newsletter and be sure to check out a look inside Dorie's upcoming cookbook.