Stephanie Stiavetti raises macaroni and cheese to new heights
December 12, 2013 by Jane
Macaroni and cheese is, to many, the ultimate comfort food – whether it comes out of a box or from an ages-old recipe. But like many old and somewhat worn items, it's deserving of a make-over. Stephanie Stiavetti, with co-author Garrett McCord, does just that in her new book, Melt: The Art of Macaroni and Cheese. In the book, "We've combined our nostalgia of the old-school dish with healthy, high-quality ingredients to produce recipes that are both classic and chic."
We chatted with Stephanie about how she and Garrett developed the concept of the new book (which we're also delighted to be able to offer as a giveaway – just comment on the blog post linked here):
————————————————————————————–
We've attended many book signings for Melt: the Art of Macaroni and Cheese, and one of the top questions we get is, "How did you decide to write a book about macaroni and cheese?" It's actually a funny story. Back in the early days of the book proposal process, we were on the phone tossing out topic ideas. One of us said, "Why don't we do a book on macaroni and cheese? Haha!" Then we both paused. The realization was a quick one: with our joint love of cheese and unique flavors, we could do something really creative with this topic.
We're both fervent cheese lovers so it made sense to expand the macaroni and cheese idea to include a wide variety of cheeses, but as we wrote the proposal, the topic honed itself to focus on a handful of particularly special cheeses that we'd grown to appreciate above all others. It was really neat to watch the book evolve, as if it had a life of its own. The end results really shares the belief of eating good cheese, just like we encourage eating higher quality meat and vegetables. Cheese is the third part of that "real food" trifecta.
We realized early on that if we were going to cook with good cheeses, we were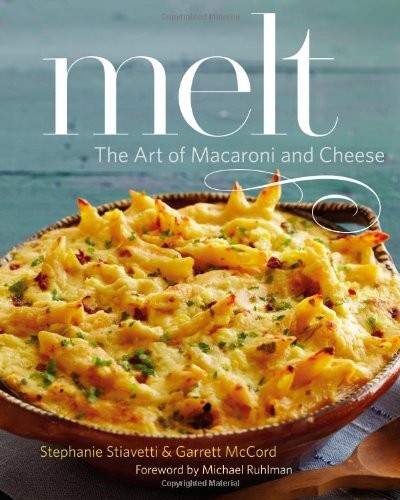 really going to have to "bring it" with the recipe style. We really wanted to elevate the American classic by thinking out of the [blue] box, so to speak, and that pushed us to explore many global flavors that people might not automatically associate with macaroni and cheese. Sure, we wanted to develop a good number of creamy macs and hearty casseroles, but in the end we hoped to create something special that made home cooks look at pasta and cheese in a new way – so we borrowed flavors from a number of global cuisines: Greek, Mexican, Indian, French, and even Chinese cooking appear in the pages of Melt. Some of our favorite dishes blend more than one culture's cooking style.
The second question we get is, "Did you develop all the recipes yourself?" And the answer is, Of course! In the beginning, we spent a fair amount of time on the phone or in person, dreaming up and testing flavor combinations. When we first wrote the proposal we had to come up with a nearly complete list of recipes, which changed quite a bit over the course writing the book. I'd say we tossed at least half the recipes from that original list, or morphed them into something else.
A lot of the recipes in Melt are true collaborations, meaning one of us would call the other and say, "Hey, what do you think of…" And then we would each weigh in, adding and subtracting ingredients and methods during the conversation. Sometimes recipes would get handed off from one of us to the other, after realizing it might thrive better in the other person's care. The collaborative spirit is so deeply engrained in Melt that there are actually some parts of the book where we can't figure out who wrote what, because our writing and editing styles blend so well. That's definitely trippy, to read a passage and not be able to remember who originally wrote it.
We hope that you enjoy reading and cooking from Melt: the Art of Macaroni and Cheese as much as we enjoyed writing it. It took us two years of writing, testing, photographing, and editing to produce such a colorful work of culinary exploration. Our goals were to get home cooks interesting in cheese as an ingredient, and then elevate that interest to new levels by adding a myriad of fresh ingredients and flavors. We'd like to think that we gave our childhood favorite a much-needed makeover. This is macaroni and cheese for grownups!